From old Hollywood to millennials, here's honoring the best actors, that have stood the test of time and cemented a place in Hollywood history.
The Cambridge dictionary defines an actor as "someone who pretends to be someone else while performing in a play, television, or a radio program." It's no easy task to bring to life the vision of a screenwriter. An incredible amount of expertise is required to inhabit a character. Acting as an art form has evolved over the years. We've moved onto the era of naturalistic acting from poetic acting. There have been different schools of thought regarding the same. Stanislavski's system proposes method acting while the Meisner technique focuses on "being in the moment." Irrespective of the methodology, we're still mesmerized by actors and what they're capable of, in front of the camera.
In light of this, we decided to line up some of the best male actors of our time (in no particular order). Now, this is entirely my personal list which may or may not align with yours. But, that's the point of such pieces. They're meant to incite conversation so that the exchange of ideas can happen organically. So, without further ado, let's get started!
---
Al Pacino has had one of the most prolific careers in the history of Hollywood. Spanning over 50 years, he's one of the very few actors to have received the Triple Crown of Acting – Academy, Emmy, and Tony Awards in the acting category. He won acclaim and recognition with his breakthrough role as Michael Corleone in Coppola's The Godfather.
One of my favorite things about Al Pacino is that he never let himself be typecast. From the early 1970s to the 1990s, he'd played a cop, a small-time crook, a mafia boss, and a powerful business tycoon. I would be lying if I said I hadn't picked up anything that looked like a gun and shouted: "Say hello to my little friend" while blasting off some baddies.
He now runs his own studio called Chal Productions. The first two letters 'Ch' are a tribute to his friend and acting mentor, Charles Laughton who's a co-founder of the company.
---
2. Laurence Olivier
A master perfectionist, Laurence Olivier, along with Richardson and Gielgud formed a highly influential triumvirate that revolutionized British theatre. Switching to the cinemas, Olivier became a household name by playing some of literature's most celebrated lovers — a swoon-worthy Darcy in Pride and Prejudice and a charismatic Maxim de Winter in Rebecca.
A highly energetic actor, Lawrence's key to portrayal was his ability to hold on to a physical characteristic, like a specific item of clothing. He would often rehearse his lines and had immense control over his voice thanks to his formal training at the Central School of Speech and Drama. It was apparent that he put his heart and soul into every character he played. Who could possibly forget his bellowing wartime call for arms or the immaculate St. Crispin's speech in Henry V? This dramatic performance earned him an acting Oscar.
One of the greatest actors in Hollywood, Olivier Lawrence was conferred with an honorary Oscar for his exceptional body of work in 1978. The largest auditorium in National Theater was later named after him, in remembrance of his outstanding contribution to theater.
---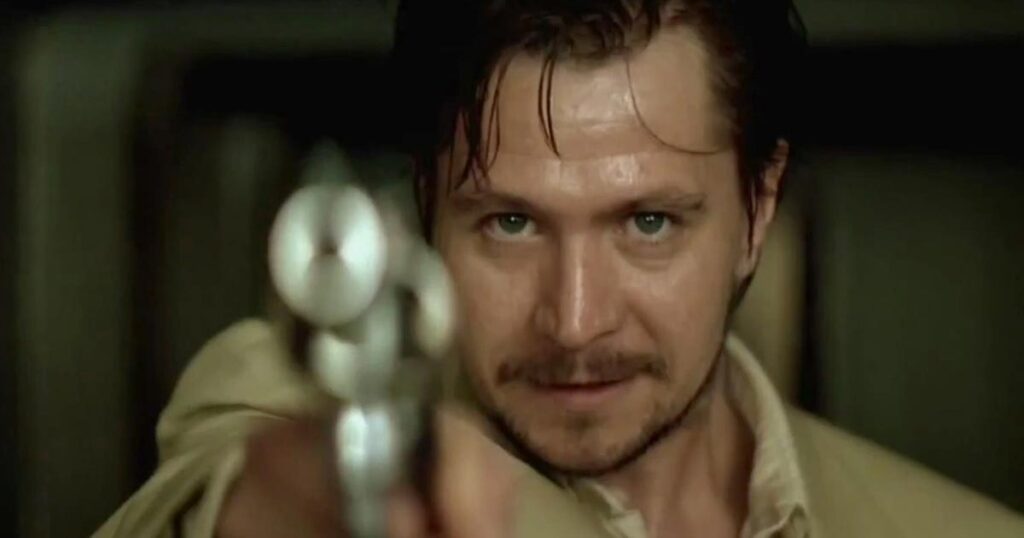 One of the finest actors of his generation, Gary Oldman had an uncanny ability to transform into any character he played. An acclaimed playwright in Prick Up Your Ears, a prodigious musician in Immortal Beloved, a blood-thirsty vampire in Francis Ford Coppola's Dracula, a wizard with an aura of mystery around him in Alfonso Cuarón's Harry Potter and the Prisoner of Azkaban, Gary Oldman's demonstrated an almost chameleon-like ability to morph into the roles he's portrayed.
Like his celebrated contemporary, Daniel Day-Lewis, Gary Oldman started off in British theater and later switched to playing minor characters in films and television. His breakout role came through Sid and Nancy (1986), as Gary portrayed the role of Sid Vicious, a punk icon who's remembered as the bassist for the Sex Pistol. Gary was able to articulate that beneath the glitz and glamour of a rock star lifestyle was a child in need of unconditional love and validation. Sid may have been a raging murderer, but Oldman somehow made him appear human.
By the mid-'90s Oldman had become the first choice for all villainous roles. These roles helped him gain a massive cult following, with Tom Hardy calling him his "absolute complete and utter hero". In 2018, he finally won an acting Oscar for his noteworthy performance as Winston Churchill in Darkest Hour.
---
Known widely for his collaborations with Martin Scorsese, Leonardo DiCaprio first burst onto the scene with an empathetic portrayal of a disabled boy on What's Eating Gilbert Grape. The 1993 drama directed by Lasse Hallstrom earned him his first Oscar nomination. He was personally handpicked by Robert DeNiro to act beside him.
Capitalizing on his newfound popularity, Leonardo DiCaprio made a name for himself playing slightly left-field characters. From the adorable Jack Dawson in Titanic to the conniving con-man in Catch Me If You Can to a charismatic Jordan Belfort in The Wolf Of Wall Street, his range is unbelievable.
He stands as a beacon of excellence, collaborating with Oscar sweethearts like Alejandro Iñárritu, Sam Mendes, Ridley Scott, Danny Boyle, Steven Spielberg. Unlike his contemporaries, DiCaprio is yet to feature in a comic book movie or a franchise. Simply put, Leonardo DiCaprio is the franchise.
---
In an incredible career spanning over five decades, Dustin Hoffman has made versatility synonymous to his name. Surprisingly, he initially wanted to be a classical pianist after having played the instrument in much of his college years. Looking for an easy class to pass, Dustin took up an acting class at Santa Monica College. This is where his tryst with acting began, eventually landing him at the Pasadena Playhouse. He broke out to the scene with Mike Nicholls' The Graduate where he was seen playing the role of Benjamin Braddock. It earned him his first Oscar nomination but he lost to Rod Steiger in what was a close call. Hoffman followed this up with a biopic Lenny that narrated the tale of a tragic comedian, who died at the age of 40.
But, his career-defining role was to come in 1976. Dustin featured alongside stalwarts like Olivier and Jon Schieder in Marathon Man. It was reported that Dustin could not sleep for days prior to the shoot.
Three years later, he delivered yet another powerhouse of a performance in Kramer vs Kramer, consequently winning an Oscar for Best Actor. He would later add to that tally with a moving performance as an autistic but prodigious brother to Tom Cruise's character in Rain Man.
---
His kind, friendly disposition and proclivity for playing mostly good-guy roles, makes Tom Hanks an instant favourite with the millennials and Hollywood's most loved stars. He made his breakthrough with leading roles in comedies like Splash (1984) and Big (1988). Both of these turned out to be sleeper hits at the box office.
In 1994, he gave us his most iconic character in a career-defining film Forrest Gump, that earned him his 2nd Oscar for Best Actor.
What has always fascinated me is the diverse range of characters he's played with relative ease. A charming romantic lead in You've Got Mail, a gay lawyer battling with discrimination in Philadelphia, a brave soldier in Saving Private Ryan, a real-life hero and pilot in Sully, America's favourite neighbour, Mr. Rogers in A Beautiful Day in the Neighbourhood a goofy immigrant in the Terminal, and a renowned symbologist in the Robert Langdon series.
Is there anything Tom Hanks can't do? Heck, he even turned director in 1996 with That Thing You Do!.
---
7. Marlon Brando
With an illustrious career spanning over 60 years, Brando is easily the greatest actor of the 20th century. Initially gaining acclaim for his role in A Streetcar named Desire, Marlon went on to win two Academy Awards for Best Actor. His first came for his performance as Terry Malloy in On the Waterfront. The "I coulda been a contender" scene from this movie is one of the most widely recognized in all motion picture history. He won his second Oscar for the role of Vito Corleone in Coppola's The Godfather. Jor-El in Superman and Colonel Kurtz in Apocalypse Now are some of his other well-known characters. He's largely been credited with bringing method acting to mainstream audiences.
Marlon was also an activist fighting against the mistreatment meted out to Native Americans. He famously refused to collect his second Oscar citing the portrayal of Native Americans in a bad light. His deep-rooted commitment to the civil rights movement earned him a place near the podium during Martin Luther King's infamous 'I Have A Dream' speech.
---
Jack Nicholson's made a career terrifying audiences with some of the grittiest roles to date. He also holds the rare distinction of receiving an Oscar nod in every decade from 1960s to early 2000s. But, his path to success has been far from meteoric. He sustained himself with guest spots in television series and various B-grade movies. Nicholson's career finally took off with a role in Five Easy Pieces.
His career-defining role as Jack Torrance came in the 1980s with Stanley Kubrick's adaptation of Stephen King's The Shining. He also played another iconic villain, The Joker in Tim Burton's Batman. Some of his other well-received films were The Departed, A Few Good Men, and Something's Gotta Give.
In what was a bizarre turn of events, Jack grew up his entire life believing his grandmother to be his mother, and his mother June his sister. He discovered the truth at 37 when he was reading a Time piece about his upbringing. Nicholson said that it was a pretty dramatic event, but not really traumatizing for him because he was psychologically well-formed.
---
9. Anthony Hopkins
The oldest actor to win an Acting Oscar, Anthony Hopkins delivered a moving performance in The Father as an elderly man grappling with dementia. But, his most memorable role came years earlier as the terrifying Hannibal Lecter on The Silence of the Lambs. The AFI ranked his performance #1 in its list of the '100 years of the Greatest Heroes and Villains.'
Hopkins joined the Royal National Theatre and this is where his tryst with plays and cinema began. He was spotted by Laurence Olivier back in 1965 who insisted he joined the institute. Since then, he's gotten knighted by Queen Elizabeth II and even received a star on the Hollywood Walk of Fame.
Hopkins is said to be highly influenced by the legendary actor Richard Burton.
He's well-known for his preparation for roles. He tends to go over the multiple lines until it sounds natural to him. When shooting Steven Spielberg's Amistad, he shocked the cast and crew by delivering a seven-page speech flawlessly in one go.
---
Yet another frequent collaborator with Martin Scorcese, De Niro has won two Oscars over his illustrious career. The first one was for his role as Vita Corleone in Coppola's crime saga The Godfather Part II in 1974. Six years later, he won again for Raging Bull where he portrayed boxer, Jake LaMotta. One of the biggest strengths of De Niro was the ability to transform himself physically, vocally, and psychologically into the character he was playing. 
When asked why he picked physically demanding roles, De Niro, one of the greatest actors of all time, said, "To totally submerge into another character and experience life through him, without having to risk the real-life consequences – well it's a cheap way to do things that you would never dare to do yourself". Tells you all you need to know about him.
Interestingly, An English girl group released a fan song called "Robert De Niro's Waiting…" which remained on the charts for 12 weeks.
---
11. Christian Bale
Tell me another actor who's gone through as many drastic physical transformations as Bale. He bulked up and needed elaborate dental work before appearing in American Psycho. For The Machinist, he, reportedly, lost 60 pounds to play an insomniac. Then, he gained 40 pounds back to portray Dick Cheney in the biopic Vice. Makes my head spin a little just listing down all this.
He was picked from over 4000 kids to play a British boy in Steven Spielberg's Empire of the Sun. It was his first brush with fame. But, it came at a cost. Bale experienced bullying in school and soon grew distasteful of the acting profession. It took some major convincing from Kenneth Branagh to get him acting again. Since then, Bale's gained widespread recognition with roles like Patrick Bateman in American Psycho and Batman in Christopher Nolan's Dark Knight trilogy. Having been a motorsports enthusiast, I was looking forward to Bale playing racing legend Ken Miles in Ford v Ferrari. He definitely did do justice to the role in what was a fitting ode to the man who lost his life while doing something he loved dearly.
---
12. Mahershala Ali
Mahershala Ali was a former rapper and is now the first Black actor to win two Oscars in the same category. Ali's first major release was Fincher's The Curious Case of Benjamin Button where he played the role of Tizzy Weathers. He also appeared in Marvel's Luke Cage and Netflix series House of Cards. But, it was his role as a mentor and drug dealer, Juan in Moonlight that won him universal acclaim from critics and an Oscar for Best Supporting Actor.
He later followed that up with Green Book in 2018, winning another Oscar for the role of Don Shirley. At the San Diego Comic-Con in 2019, it was announced that Mahershala Ali had been signed on to play Blade in the sprawling Marvel Cinematic Universe. Ali is no stranger to comic book movies. He earlier essayed the role of The Prowler, in the excellent Spider-Man: Into the Spiderverse.
---
13. Daniel Day-Lewis
In his formative years, Daniel Day Lewis learned how to imitate the mannerisms of the people around him as a way to deal with bullying. Little did he know that he would be putting that acquired skill-set to good use later on. Day-Lewis has always had an aura of ambiguity around him. He's only starred in six films since 1988, with as many as five years between roles.
Considered to be a method actor, he would remain completely in character throughout the shooting schedule of the film. He spent two nights in jail for In The Name of the Father and had three teams of policemen interrogate him for nine hours.
While shooting My Left Foot, he insisted on visiting restaurants in a wheelchair. It's this dedication to his art that made him the only actor to have won three Academy Awards for Best Actor. Lewis earned the trio of awards for My Left Foot (1989), There Will be Blood (2007) and Lincoln (2012). Sadly, Day-Lewis announced retirement after the release of Phantom Thread in 2017.
---
14. Robin Williams

 
Robin Williams is regarded as one of the finest comedic actors of all time. Though initially popular for his improvisational skills, he later gained recognition for his roles in films of substance.
The final emotional scene from Dead Poets Society still gives me the chills and also inspired an entire generation. His performance as a therapist in Good Will Hunting deeply affected some real practitioners. John Keating is one of his most iconic characters in his 37-year long film career.
His signature catchphrase from Good Morning, Vietnam was so popular that NASA's space shuttle Discovery crew started its day with a wake-up call imitating his character.
Unfortunately, Williams committed suicide after battling a lifelong struggle with Lewy body disease on August 11, 2014. He experienced bouts of depression, anxiety, and paranoia. His death sent shock waves throughout the entertainment industry. Fans created makeshift memorials in various locations across the city and paid tribute on social media with re-enactments of "O Captain! My Captain Scene!.
---
15. Denzel Washington
Denzel has often been credited with reconfiguring the conventional idea of stardom by associating himself with characters defined by their resilience and inner strength. His towering screen presence means it's almost impossible to take your eyes off him. Denzel has received critical acclaim for his portrayal of real-life figures: a Muslim minister in Malcolm X, a football coach in Remember the Titans (2000) and an anti-apartheid activist in Cry Freedom (1987). He won an Academy Award for Best Actor for his role of a corrupt Los Angeles cop in Training Day. 
In 2016, Fences, directed and produced by Denzel, was nominated for an Oscar in the Best Picture category.
While visiting Atlanta to promote the movie, he took time off to visit his childhood librarian Miss Connie for her 99th birthday. They hadn't seen each other in over half a decade, but she said she'd never forgotten about him.
---
16. Willem Dafoe 
With over a 100 credits in his vast filmography, Willem Dafoe is a natural character actor and one of Hollywood's greatest actors alive. His journey to filmdom began with theatre at the age of 17 in 1977.
He is best known for his versatility and willingness to appear in controversial roles over the years.
His constant need to reinvent himself have led to some of the finest works in both mainstream and independent cinema. He's received four Oscar nods over the years. 3 for Best Supporting Actor in Platoon (1987), Shadow of the Vampire (2001), The Florida Project (2018) and 1 for Best Actor in At Eternity's Gate (2019).
His natural sense of daring comes across in the eclectic group of characters he's played so far. An elite assassin in John Wick, Green Goblin in Raimi's Spider-Man, The Fox in Lars Von Trier's controversial Antichrist, one of the suspects on Murder on the Orient Express.
Dafoe married Italian director Giada Colagrand in 2005. They've made three films together: Padre, A Woman, and Before It Had a Name.
We gravitate towards actors in both, reel and real life, for their natural ability to influence human behaviour. But, what is it about the actions of a fictional person that hits so deep? The answer lies in how our minds work and how we process emotions like sympathy. We tap into a sort of collective trauma that makes us want to alleviate their pain. For a while, they make us forget that these events are happening in the realm of fiction. Now, that's the power of a great actor.
Shreyas D.S.
A self-proclaimed movie buff who swears he's funnier on the Internet than he is in real life. He also constantly makes sitcom references to make sense of a life that is slowly succumbing to entropy.