After a year of delays and false starts, No Time to Die, the 25th film in the James Bond series, is set to release by the end of the month. The last film Spectre was released in 2015. Given the campy and popular nature of these films, it is hard to believe that five years have gone by without a major release. It is harder still, to believe that this is the last time Daniel Craig returns as the suave British icon. Having played the spy for the better part of two decades now, this feels like an appropriate closure for Craig himself, and his version of Bond. But I, like many admirers, cannot help but wonder: what great adventure awaits the Bond franchise next?
Before speculating on the nature of any future spies that may grace our screens, let's take a look at what we know from the trailers of No Time to Die, so far.
What to expect from No Time To Die 
A lot has changed since Bond faced off against his arch nemesis in Spectre. He's retired, living with Dr Madeleine Swann, and a new agent seems to have taken over in a professional capacity. The world has gone on without him, and this feels as good a time as any to disturb the peace of his life. We see Bond reluctantly returning to MI6 and his past life as a spy when he's attacked by assassins in Italy.
What truly looks interesting from the trailers are the supporting characters. Two new characters make an appearance, CIA agent Paloma (played by Ana de Armas) and the new 007, Nomi (played by Lashana Lynch).
The line-up sure looks promising. As old narrative threads are tied up, new strands are introduced. Nomi as 007 is an interesting choice, for example. The character fills the vacancy left behind in the 00- division at MI6 by Bond. Yet, she is not the new James Bond. Series' producer Barbara Broccoli has long held the view that James Bond cannot be a woman. She has said: "We should create roles for women, not just turn a man into a woman."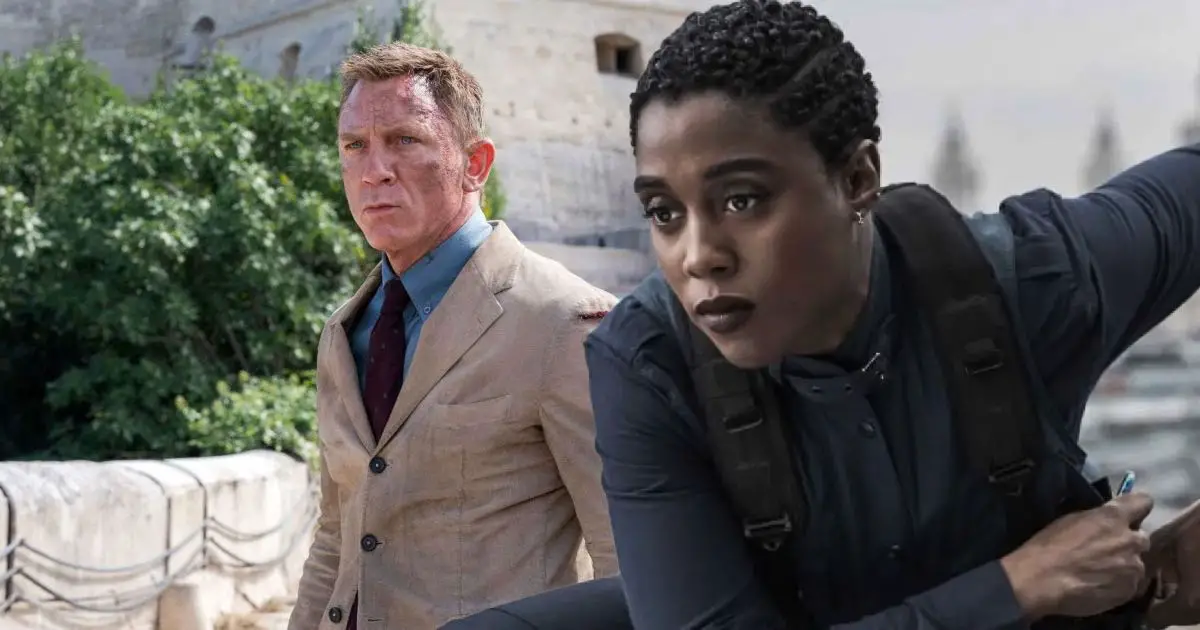 Bond Girls: A brief history
The Bond films don't always have a great track record when it comes to women. The leading ladies of these films were referred to as Bond Girls for many years. In recent times, the women do little more than provide convenient assistance, act as arm candy and ultimately be seduced by Bond. Judi Dench's M even addresses this in Quantum of Solace (2008), remarking "Look how well your charm works, James. They'll do anything for you, won't they?"
The films have tried to do better than their predecessors. Arguably, the recent ladies of the films don't rise up from the sea wearing skimpy bikinis (Ursula Andress as Honey Ryder remains an iconic image) à la a modern Venus. But there remains little for them to do. If they're not too busy dying tragically to provide fuel to the hero's arc, they're discarded by the narrative anyway. It remains to be seen whether the franchise can provide space for female narratives that don't follow the tired tropes of the femme fatale or a fridged woman. With Phoebe Waller-Bridge as a writer on No Time To Die, things might look a bit different from now on. 
Revisiting the beginning of Bond
One thing the franchise needs is reinventing the character according to his time. Sean Connery's Bond was a classic take on the trope of the suave, well-dressed and tough spy. He was tall, dark and handsome, fitting the bill to a tee. His successors have mostly followed the same mold. Yet, upon looking back, many of these characters are hopelessly out-of-touch. The films are extravagant — a reminder of a bygone era where it falls to one single man to save the world, time and again, and sleep with a bunch of beautiful women in the process.
This is part of the reason why the series was rebooted, post Pierce Brosnan's last outing as Bond in Die Another Day (2002). The idea was to reinvent the character, and its place in the spy film genre. Tributes to the golden age of espionage were no longer sufficient. Post 9/11, spies entered a grittier, seedier reality. Both in film and in real life, the War against Terror informed popular notions about intelligence agents.
Craig's Bond was no different. He was a vulnerable newcomer, yes. But he was also deadlier, more violent. He made good use of his "license to kill."
A spy for a new age
 With Casino Royale (2006), we saw the birth of a new kind of Bond. He was impeccably British, but underneath the charm there was a great deal of darkness. He was a character that was more suited to fit in a world after 2001. The newer films began to tell stories in a more reeled-in, down-to-earth manner. Yes, the villains were still over the top, part of a secret organization with agents everywhere. No one could be trusted and the stakes were ridiculously high. 
Yet, within all these shenanigans, there was always a touch of humanity. The intent was clear. To create a character that audiences won't just mindlessly venerate, but would be able to sympathize with. In my opinion, this has mostly been a success. Craig's take on the legendary spy has been critically acclaimed and commercially beneficial. Spectre, the last film so far, earned $880 million worldwide, long before action/superhero blockbusters from studios were the norm. 
However, there'll always be criticism. It seems laughable to think of a time when people in England were dissatisfied with Craig's casting. Unlike the character he was set to play, Craig was blond. Audiences were skeptical of his casting as he did not adhere to the popular perception of how Bond should look, as defined by the previous films and creator Ian Fleming himself. 
The Bonds of Englishness: the Legacy and the Inheritance
Bond has always been claimed as a national icon for the English. There's a reason why the casting for Bond follows such orthodoxy; popular opinion in the UK has seen James Bond as a self-image for England itself. Queen and country pervade Bond's world, which itself is a longing for the glory days of Britain, before the empire was fragmented and weakened by the two World Wars. His position as the best hands to do any given job hint at national pride, rooted in imperialism that believes in English moral authority in the world. 
A vague sense of unease remains in the villainy in the Bond series. All of them are vaguely European, with matching accents that hint towards a fear of the Other. A nostalgic projection of the Cold War era, one might assume. Facing off against these foreign threats to England, Bond, once again, is the only man for the job. 
Conclusion
This is not to say that the Bond films, or the character itself engender jingoistic values. Credit where credit is due, the films scarcely fall prey to depicting Bond against a villain who is radicalized explicitly because of his country or religion. Even in the aftermath of the 9/11 attacks, the films make a point to refer to terrorism as a product of greed, not religious beliefs. In a post-Brexit UK, the question of Bond and his quintessential Englishness grows complicated. Cultural icons like James Bond have always been mirrors for the state of affairs of their origins. In this case, a growing conservative streak in British politics and media might limit who gets to inherit this legacy. 
One can hope, I suppose. Immediate reboots of the franchise are not on the cards, and any future film is a long way ahead. Hopefully, the new Bond is reflective of the evolving, inclusive world that they will inhabit.
In the meanwhile, a hypothetical young M spinoff set in sixties' era Cold War presents intriguing possibilities. Oh well, never say never. 
No Time To Die release dates:
India, UK: September 30, 2021 (In India, it will release in English, Hindi, Kannada, Tamil, and Telugu)
USA: October 8
Runtime: 163 minutes
Prachurya Das
An avid reader and a life-long lover of blue skies, I like to spend my time with obscure poetry and dissecting films. Currently besotted with Maupassant, art history and all things Nolan, you can find me spacing out to Queen while I look for new things to obsess with.